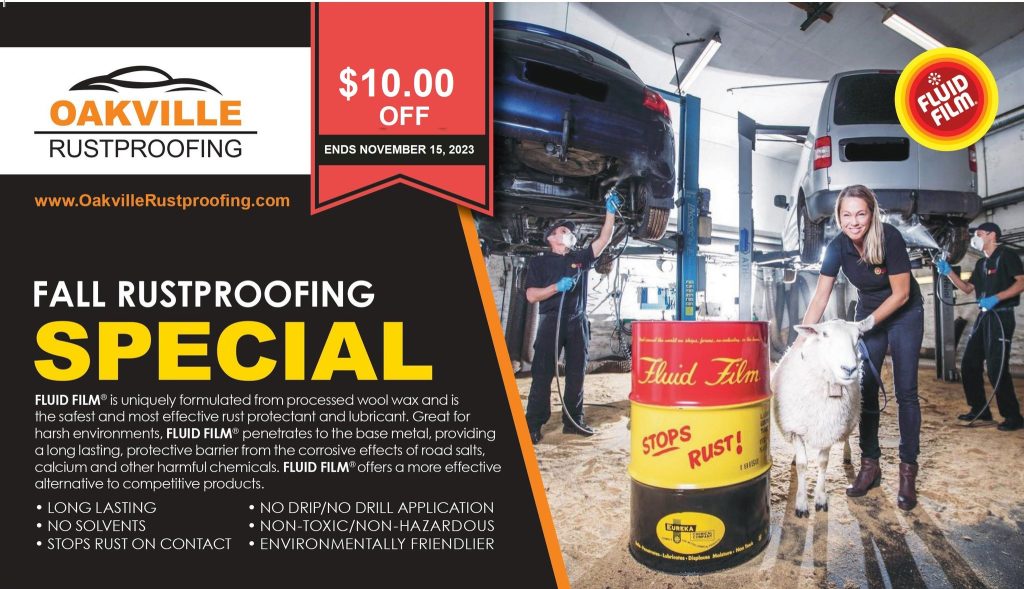 When it comes to taking care of your vehicle, you want the best of both worlds: protection for your investment and a commitment to environmental responsibility. That's precisely what Oakville Rustproofing offers, and our exclusive sale from October 15 to November 15, 2023, is the perfect opportunity to experience it.
**Why Rustproofing Matters**
Rust and corrosion are relentless adversaries, lurking beneath your vehicle's surface, ready to weaken its structure and compromise its value. A rust-free car not only looks better but is also safer and holds its resale value longer.
**Our Environmentally Safe Solution**
At Oakville Rustproofing, we prioritize the environment just as much as your vehicle's well-being. That's why we use environmentally safe Fluid Film for our rustproofing services. This specially formulated solution is non-toxic, solvent-free, and biodegradable. It's a win-win for your car and the planet.
**The Benefits of Fluid Film Rustproofing:**
1. **Thorough Protection:** Fluid Film penetrates every nook and cranny, creating an impenetrable barrier against rust and corrosion.
2. **Eco-Conscious:** By choosing Fluid Film, you're making a responsible choice that aligns with global efforts to create a greener future.
3. **Versatile Application:** It can be applied to various parts of your vehicle, from undercarriages to door panels, ensuring comprehensive protection.
**Why Choose Oakville Rustproofing?**
With years of experience, Oakville Rustproofing brings expertise and professionalism to every project. Our commitment to quality and customer satisfaction is unwavering.
**Act Fast! Limited Slots Available**
Our exclusive sale is for a limited time, from October 15 to November 15, 2023. Don't miss the chance to experience the best in rustproofing and environmental responsibility.
Contact us  to schedule your appointment. Take this opportunity to protect your vehicle, safeguard the environment, and experience rustproofing the Oakville Rustproofing way.
Don't let rust take hold – act now! Your car and the planet will thank you.